Tag Archives: ActiveSync
July 24th, 2008. Published under Uncategorized. No Comments.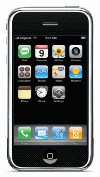 I've been waiting a long time for Exchange ActiveSync support for the iPhone.  I don't own one (I have a Motorola Q9C), but I support a number of people who have iPhones.  I've configured a few of them and its a really slick setup.  There is a nice guide at Kerio.com with screenshots on configuring ActiveSync on the iPhone, but it is missing dealing with installing a self-signed certificate if necessary, which I employ.
All you have to do is get the Root Certificate onto the phone before configuring ActiveSync.  Previously, I made the certificate available for download from our Outlook Web Access site, so all I had to do was browse to our OWA site on the iPhone and download the cert.  The iPhone knew it was a root certificate and installed it properly.  SSL is activated by default (turn it off under Account Info in the mail account's settings), so nothing else had to be done beyond this and the normal ActiveSync setup.
You can find more docs on the Apple site at http://www.apple.com/iphone/enterprise/integration.html.